We understand your content, and your local audience and translate the content from their point of view while keeping your brand message intact maintaining its intent, style, tone, and context for local relevance.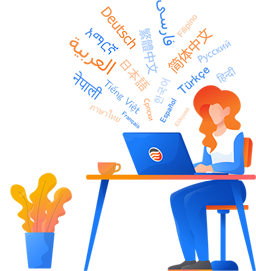 No matter what type of content you have created—whether it's your communication, books, marketing content, educational content or location-specific – we can translate the content through best-in-class transcreation, translation, and localization solutions. We have the world's best AI translation engine delivering highly accurate translation solutions.
Devnagri is one of the leading AI-based document translation solution providers. We use the right combination of next-generation technology, artificial intelligence, and modern tools for accurate document translation.
The advantages which Devnagri delivers to you
At Devnagri, we can skilfully translate an array of documents including:
We are associated with some of the finest and most proficient translators in the country. We ensure the quality and consistency of translated content. Our AI platform is embedded with advanced features and performs various quality checks to ensure optimal translations.
We can effortlessly execute document translation of any scale. We are able to deliver approx 1 million words per day across languages and have the potential to scale it with the aid of our strong network. We have the best in class proprietary tools to optimize our operations and deliver optimum results.
We have the first-mover advantage in this space. We are one of the very few companies in India with the next-generation AI-led technology. We believe in offering the best benefits to our clients. Hence, our translation solutions are competitively priced for benefit of our customers.
Our translation platform has a smart interface and advanced tools. The AI translation platform is built for the fast processing of high-volume content. Our system can flawlessly execute translation projects within the given time frame. We promise speed with perfection.
The Cutting-edge translation technology
Translation memory is an advanced technique that matches content that has been previously translated. It thus allows for faster translation while maintaining the quality and thus prevents the customer from paying twice for the same content for translation. We use advanced technology to self-assess the content and also maintain its quality thereby speeding up the translation process.
Computerized quality checks
We believe in investing in tech and skills. Therefore, our new age translation platform consists of a glossary, NLP and grammatical system embedded into the solution. Every translated content on our platform undergoes rigorous scrutiny to identify and rectify the linguistic and stylistic errors. We make sure the translation quality of our content is superlative and as per the requirements of our clients.
Effective project management
We use a variety of proprietary custom made tools to keep a close check on the project from the start to finish. Our team of project and community managers efficiently track every aspect of the project starting from work scheduling to job distribution to performing quality checks to crowd management. Our document translation specialists ensure that the project is completed on time.
See why customers
love Devnagri
We trusted and Devnagri delivered. Gone are the days when we had to struggle for getting perfect translations as Devnagri with its AI power sanctions an impeccable series of translations.
Ankush Malhotra
Devnagri has finally made it possible for my business to reach the audience of my desire. Moreover, their delivery is a work of out of the box innovation.
Shweta
The AI technology used by Devnagri simply amazes me. We are definitely going with this convenient platform for translations which just delivers the work at the said time.
Riya Sharma